BOX OFFICE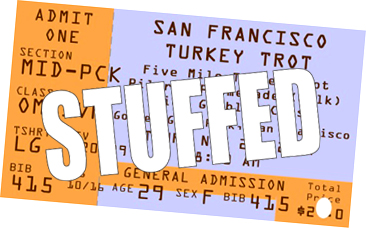 REGISTRATION IS CLOSED
THE TROT HAS REACHED FULL RACE CAPACITY.
THERE WILL BE NO RACE DAY REGISTRATION.

All kids & adults must be pre-registered for the event. All
race amenities, including all race permits, race insurance, portapotties, timing services, medical services, equipment
rentals, graphic designers, refreshments, t-shirts, supplies,
race donation, etc, have been paid for by registered entrants.
This is an organic turkey trot, uninfluenced by corporate cash.
This event has been produced for registered runners only.

BANDITING A RACE = STEALING
DO NOT BANDIT RACES.



CONSIDER THESE ALTERNATIVE
THANKSGIVING DAY RUNS!

Marin/North Bay

Marin Turkey Trot
Petaluma Turkey Trot

Peninsula/South Bay

Silicon Valley Turkey Trot
Burlingame Gobble Wobble
Santa Cruz Turkey Trot

Oakland/East Bay

Piedmont Turkey Trot
Concord Turkey Trot
Pinole Nitro Turkey Trot
Pleasant Hill Turkey Trot
Walnut Creek Turkey Trot
San Leandro Turkey Trot
El Sobrante Gobble Wobble

Sacramento

Sacramento Run to Feed The Hungry
Davis Turkey Trot
Solano Turkey Trot
Elk Grove Turkey Trot
Folsom Turkey Trot
Roseville Turkey Trot
Woodland Turkey Trot

Central Valley
Modesto Turkey Trot
Stockton Turkey Trot/Run Against Hunger

RACE VOLUNTEERS

Race Volunteers are Welcome!
Click on a volunteer below to sign up!

Race benefits Lowell High Track & Field.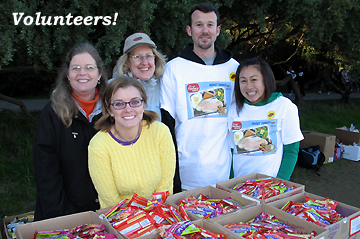 NO DOGS ALLOWED
While The Turkey loves his canine brethren, dogs,
leashes, and hundreds of runners do not mix. Fido will
not appreciate running on a short leash either. No dogs.

STROLLERS NOT RECOMMENDED
The cross country style course is not particularly jogging stroller friendly. Course includes lots of grass fields, dirt & gravel paths, and some narrow trails. A baby/toddler would probably not be comfortable being pushed over 3 or 5
miles of rugged terrain. It would be a very turbulent ride!
Race Volunteers are Welcome!
Click on a volunteer below to sign up!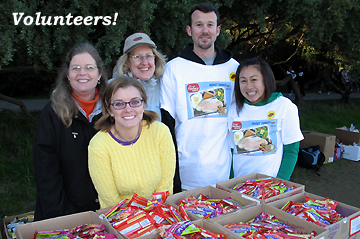 Accepting online entries only. No mail-ins.
Since viewing "An Inconvenient Truth,"
The Turkey has become a bona-fide tree hugger.

DID YOU KNOW? In Plymouth Colony 1620, one
race entry to the Turkey Trail Trot could be bartered
for 2 ears of corn, 1 gourd, and 18 kgs of cranberries!